The Mokan Nokan Beautiful Hawaii Roadshow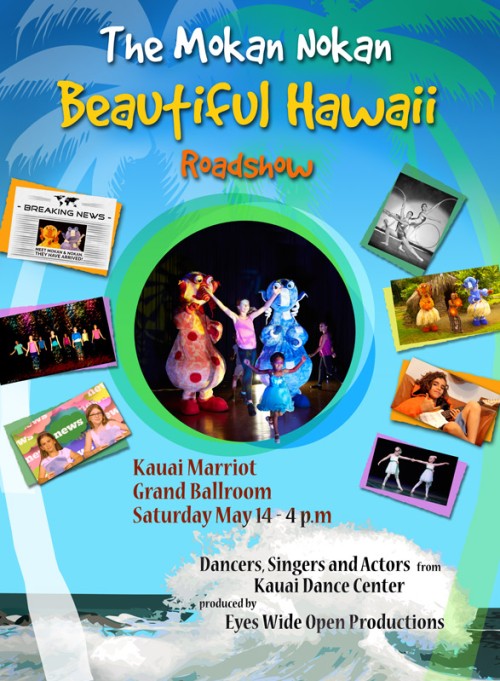 The show is based on a new Children's Television show "the MoKan NoKan Show" to the pilot visit
www.mokannokan.com
The story interacts the two larger than life puppet with Kauai locals, one a gallery 103 Curator, in Kuku'iula, a cast of child actors, dancers and singers. The "letters" that come into the News Room play a key role in weaving what story is presented in the showcase. For example, Who is making the lava flow on the big island? Could it be a fire-breathing dragon? An angry dragon? Or one who is sad, misunderstood? Clever, witty and above all charming fun entertainment.
Come follow the adventures of Mokan and Nokan! Witness the beauty of live Ballet, Hip Hop, Hula, Lyrical and Spanish dancing. Delight yourself in the sounds of original scores, of Hip Hop, Hula, and classical music as well as traditional excerpts from Tchaikovsky, Swan Lake and other classical composers. Come witness 80 local performers of all ages broadcasting there talent. Enjoy the beautiful grounds of the Marriott Lihue, in Kalapaki bay.
Refreshments will be available for purchase during the intermission. Free and valet parking available.
May 14, 2016 4 PM
Adult tickets $20. Advanced $25 at the Door
Child tickets $10. Advanced $15 at the Door
THIS IS A ONE TIME PERFORMANCE
Tickets may be purchased at the following locations: (Princevile) Magic Dragon Toy and Art Supply, (Kapaa) Kauai Music and Sound, (Lihue) Kauai Dance Center, (Koloa) Progressive Expressions.